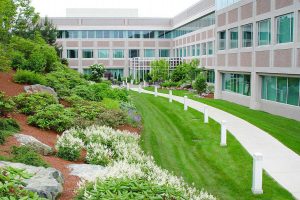 Maintaining a commercial landscape requires a little more care and attention than a residential lawn. If you are a business owner or manager of commercial property you must be concerned about not only beauty and function but your property must be safe for your clients, employees and general public.
Keeping Your Property Well Maintained
Keep a well groomed landscape at all times and ensure that it does not get out of control and becomes a hazard. Unchecked plants can grow out of control and make it difficult to see and move around. Watch that the tree branches do not encroach on walkways and block driveways and parking lot lines. This could endanger both drivers and pedestrians.
3 Tips for Maintaining Your Commercial Landscape for Neatness and Safety
Timing is Important – When it comes to landscaping your property, timing is important. For efficiency and effective maintenance, tasks need to be done at the right time. Never schedule tasks to make efficient use of time and resources, make sure the timing is correct or your landscape care will not be effective. "To everything there is a season" landscapers instinctively know there is a right time for everything we do from planting perennials to pouring concrete and if we choose to ignore the cycle of Nature, we know it will be harder to achieve the results we want. So take full advantage of environmental conditions and the seasons.
Tools of the Trade – You need to use the right tools for the right plants and practices, such as pruning. The right tools with proper training help make you safer by reducing injuries to backs, knees, fingers and elbows. Sharp, clean cutting tools are essential for the plants as well as for safety of personnel. Clean tools provide work efficiency and help prevent the spread of plant diseases. Invest in tools that improve safety and boost productivity.
Edges – Lines are a powerful tool for the landscape designer because they can be used to create an infinite variety of shapes and forms, and they control movement of the eye and the body. Landscape designers use lines to create patterns, develop spaces, create forms, control movement, establish dominance, and create a cohesive theme in a landscape. All these lines have edges. And the edges are the most important part of any landscaped space. People walk and drive cars by the edges: streets and sidewalks, defined walkways and grassy areas or plant beds. Well maintained edges promote safety while poorly maintained edges promote injury. A pile of leaves by a curb can hide the edge, causing a fall. Poorly defined edges can cause vehicles to hit plants or trees and run off roads or driveways. Nice clean cut edges are neater and beautiful and promote safety.
A& A Lawn Care & Landscaping helps residential and commercial clients with their lawns and landscaping all year 'round!
Contact Us (859-384-0266) for a Free Consultation!
—
About A & A Lawn Care & Landscaping
A & A Lawn Care & Landscaping can beautify your lawn and landscaping using our vast experience in turf grass management. Our complete lawn service is designed for both residential and commercial lawns and we keep your lawn healthy without harming your family, staff, or pets.